House Tour: Ziegler Ranch in Aspen
Posted by Coldwell Banker Paradise on Monday, January 22, 2018 at 1:40 PM
By Coldwell Banker Paradise / January 22, 2018
Comment
Blanketed across 200 pristine acres in Aspen/Snowmass high alpine territory, the legacy property known as Ziegler Ranch feels more national park than estate. An electronic gate gives the property so much exclusivity and privacy that few locals suspect that one of the Valley's most prized family ranches lies just beyond the border. The ranch has its own two-mile paved road too, which winds the rare visitor through beautiful backcountry. It's the kind of landscape that makes you feel as if you are living in your very own Bierstadt painting.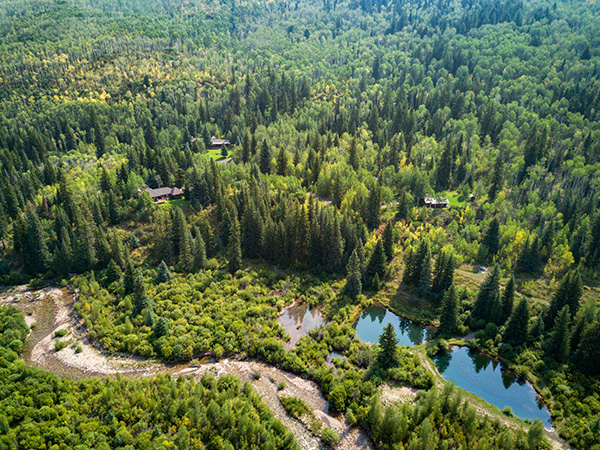 As you drive through the property and past the green-to-gold brush strokes of meadows and aspen groves, you first encounter Ziegler Reservoir cradled in the hillside. Reflected in the water, the snow-capped peaks of Capitol, Daly and Clark stretch into the sky. You wind further down the road, past aspen groves, until you reach a 30-acre enclave with three residences positioned to take advantage of their frontage along Snowmass Creek.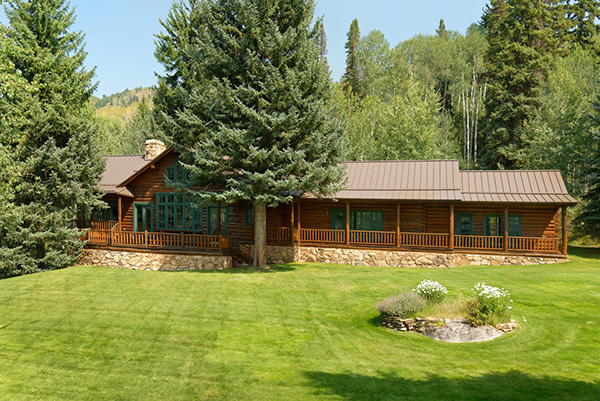 First, you arrive at The Lodge, a rustic hideaway with an expansive great room, soaring ceilings and three bedrooms, all surrounded by park-like landscaping.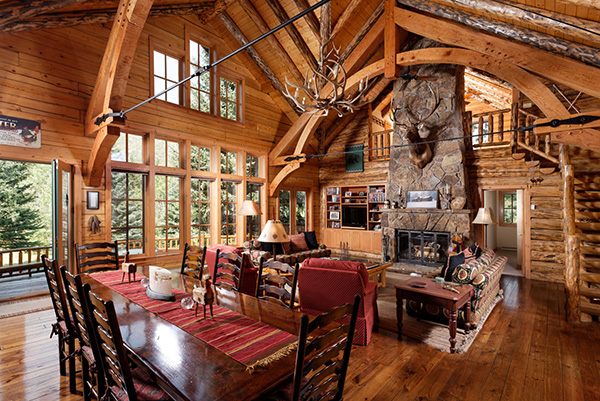 Then, you find The View House, which offers a contemporary feel with three bedrooms and impressive picture windows opening up to the valley, creek and beyond to the mountains.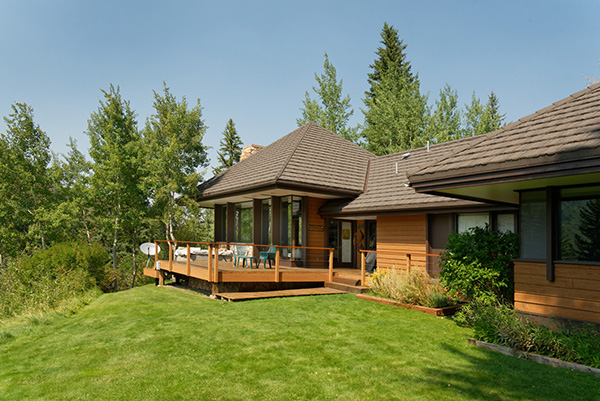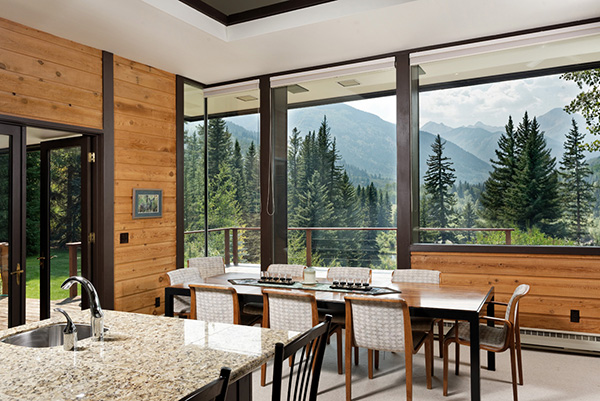 And finally, you pay a visit to The Caretaker's House, with its three bedrooms. Down here in this private enclave, saddled between crisp lawns and aspen trees, your senses take over.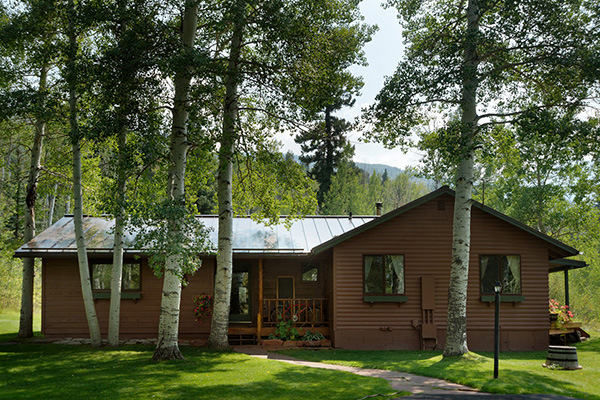 The gentle sound of the creek lulls you into a daydream. Your eyes soak in the view of the water until they meet the three peaks again — a breath-stopping portrait that defies description. Knowing that the rest of the property's 170 acres are preserved open space, you drift into a state of complete awe.
"It's a private slice of the Rockies," says real estate agent Brian Hazen, who has co-listed the landmark estate with Jim Cardamone, both of Coldwell Banker Mason Morse. "You can own these views."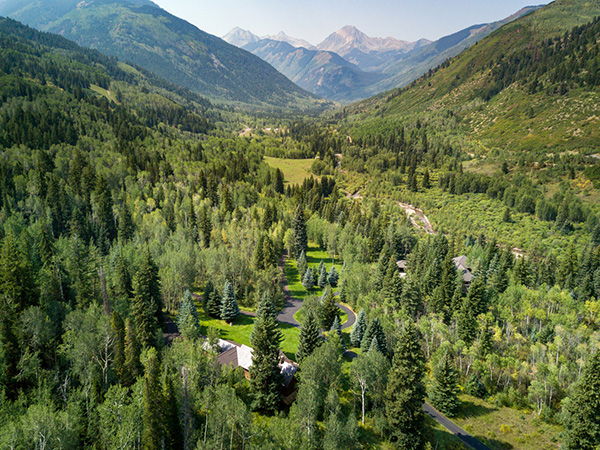 It's hard to experience Ziegler Ranch and not feel reverence for Mother Nature, and all the spoils that the Rockies have produced (both natural and man-made). There is, of course, the world-famous Aspen Snowmass ski resort, where you could enjoy ski-in, ski-out access to Campground Slot ski run right from the property. There are beaver ponds for fly fishing and private hiking along the Columbine Trail, as well as cross-country skiing and horse trails.
The ranch also offers exclusive recreational use of Ziegler Reservoir for trout fishing, windsurfing, canoeing, paddle boating or swimming. To this day, the reservoir remains a Colorado treasure. In 2010, Ziegler Reservoir made national headlines after the enlargement of the reservoir triggered the discovery of 6,000 large fossil bones from seven extinct Ice Age mammal species, and thousands of other bones and plant fossils — "all well-preserved and in near-perfect condition, thanks to its high-altitude location," says Cardamone. His brother Tom is an ecologist and former executive director of Snowmass Discovery, who led presentations on the dig and has helped raise funds to establish a visitor center in Base Village.
"It was the world's finest alpine ice-age fossil discovery, the greatest fossil discovery in Colorado history and the largest number of American mastodons — 36 altogether — ever found in the world," explains Tom. "It was amazing. All of these animals were roaming the continent. What wasn't known was that they were in the Rockies. What this discovery showed was that they were here."
Despite Ziegler Ranch's unspoiled landscape, it offers unparalleled accessibility. Snowmass Village is only five minutes away on the paved private drive, where you'll have access to all the future new amenities in Base Village, now underway thanks to a $600 million investment.
"This is the only property that has a private road and access right up to Snowmass Village," says Hazen. "Most properties don't have that level of access. You usually have to go down valley and come into Aspen, and that can easily be an hour in the winter."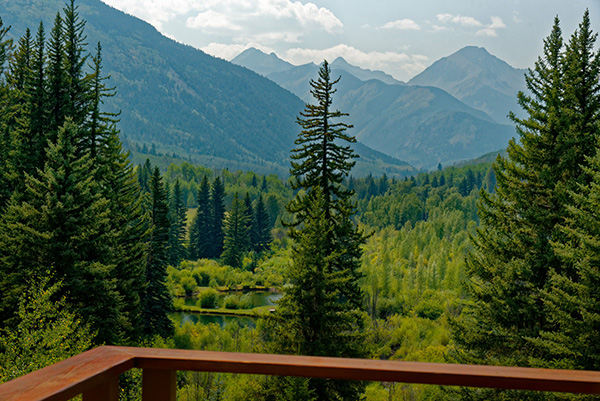 Both Hazen and Cardamone regard the property's combination of acreage and proximity to Snowmass as "exceedingly rare." Heightening its priceless qualities, Ziegler Ranch has been in the same family's possession for over 60 years. "It's one of those Aspen properties that comes along only once in a lifetime," says Cardamone. The 2010 "Snowmastodon" discovery raised the significance of the property even more, placing it into a whole new category of legacy properties.
"There might be a certain buyer who looks at a property like Ziegler Ranch and recognizes it not just as a legacy property, but as a world heritage property," says Tom. "It's of that caliber of importance in the world of science."
For that reason, the real estate team hopes the future owner of Ziegler Ranch will have a preservationist's heart. Concludes Hazen: "No doubt, the new owner will be the same kind of steward of the land that the current owners have been for the last 60 years."