The New Homeowner's Guide to Hosting Holiday Guests
Posted by Coldwell Banker Paradise on Monday, December 4, 2017 at 11:38 AM
By Coldwell Banker Paradise / December 4, 2017
Comment
As a new homeowner, there's a good chance you'll have the opportunity to host the Christmas festivities — after all, everyone will want to see your new place, so you'll want it to look its best for the holidays.
If you're feeling overwhelmed, don't worry: Follow this simple game plan for adding decor to your new home and helping your guests settle in comfortably.
Dress Your Home in Holiday Style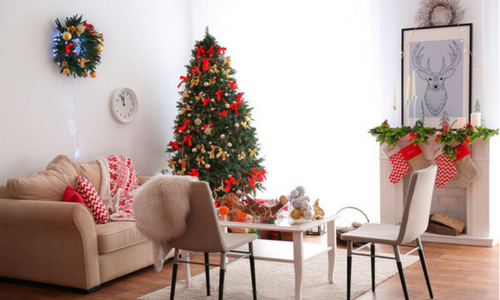 Focus on decorating a few key areas in your home to create a warm, festive vibe. You don't need — or want — to have decorations in every corner. Using too much decor will make your rooms feel smaller. Instead, make a few spots gorgeous with these tips:
Start at the front. Greet your guests with a beautiful wreath on the front door. Choose a pre-lit, battery-powered wreath so you don't have to worry about extension cords — all you need to do is hang it up. Next, clean off your porch, clear your walkway, and add a holiday doormat. Finish with an easy "wow" factor, like a lawn figure of a nutcracker or snowman.
Trim the tree. Don't worry about getting the tree decorated before your guests arrive. Instead, host a tree-trimming party as a fun holiday activity. Assemble your tree or place it in a stand with water the day of the party. Add lights and set out your ornaments. Then, break out the cookies and eggnog and enjoy a night of decorating with your guests.
Hang stockings with care. Decorate your mantel to make it a beautiful focal point. If you don't have a fireplace, create your own focal point by using a bookcase or entertainment center. Bring the space to life by draping a pre-lit garland across it. Then, nestle a few similar items around the garland, such as a parade of nutcrackers, stuffed or wooden Santas, a Christmas village, a row of candles, or an arrangement of ornaments. Finish by hanging your stockings with stocking hooks or removable adhesive hooks.
Add decorations. A few places need a holiday twist: the dining table, the coffee table, and the kitchen island. While you don't need to cover every surface, you do want to spread some holiday cheer here and there. Try something simple and quick like a glass bowl filled with ornaments, a tall jar of candy canes, or a lovely red poinsettia.
Get Ready for Guests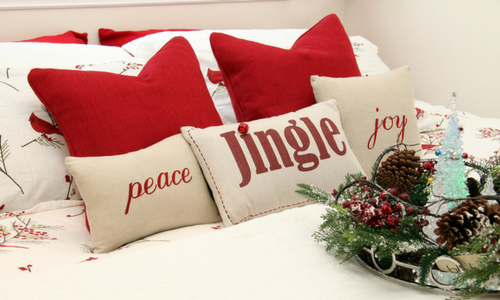 Treat your guests like you'd want to be treated. Once you've spread Christmas cheer around the house, take a few steps to get ready for company.
Clean the guest room. Declutter if you've put items in this rarely used room. Give it a good cleaning. If the bedding is clean but hasn't been used in a while, toss the bedspread and pillow covers in the dryer on air-dry to fluff out any dust. Add a fun Christmas pillow to the bed, put out a basket of holiday goodies, and place a predecorated tabletop tree on the dresser.
Set up the sofa. Don't have a guest room? If you're pulling out the air mattress or sleeper sofa, make sure you've got extra bedding on hand. Vacuum underneath the sofa cushions to remove any dust or crumbs. Set aside an area for your guests to put their belongings.
Prep the bathroom. Arrange personal care items for your guests in a basket so that they're easy to find. Show your guests where to locate clean towels and which towel bars they may use. Finally, add some festive elements to the bathroom with holiday-themed soap, air freshener, and hand towels.
Gathering with friends and family is the best part of the season. Once you've decorated the key places and made a welcoming spot for your guests, you can sit back and enjoy the most wonderful time of the year.